Andreen's Medicine Centre
Andreen's Medicine Centre began as a family business in 1975.  Stewart and Hazel Andreen built a practice based on superior customer service. Their daughter Heather took over the practice upon their retirement.  Elizabeth joined the team in 1987, and has remained since.
 New ownership in February 2014 continues the longstanding tradition of excellent personalized customer service into the years ahead.
To better meet client needs, renovations have been done to provide a designated nursing services clinic, as well as a home health products area.
Our pharmacists provide professional services including medication reviews, consultations, immunization administration and are available to provide information on non-prescription medications. Our team will also blister-pack medications and deliver prescriptions.
Our registered nurse provides foot care with a medical focus. This includes nail care, lower leg assessments, diabetic foot care,  as well as recommendations for pressure relieving foot care products.  She will also assist with wound care, referrals to community nursing services, and updates to physicians for client related medical management.
We also have several certified compression stocking fitters on staff to ensure our clients receive the correct product for their needs.  Specially trained staff will also ensure that your Rollator (wheeled walker) purchase is right for you.
Mobility aids
A full line of cough/cold remedies and pain relief
Vitamins
Greeting cards and giftware
Personal hygiene products
Services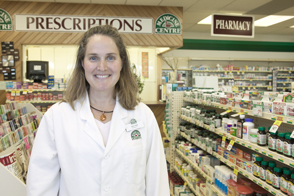 "We're located on the west side of Kelowna so we cater to a smaller community than exists in the downtown core, but nonetheless we provide a complete range of services," says Heather. "Doing business in this neighbourhood has several advantages, the main one being that we have the time to get to know our customers and provide personalized service.
Pharmacy Services
Compression stockings and fittings
Consultations for the management of diabetes, asthma, pain, nutrition, and cholesterol
Home Visits
Online refill requests
Prescription Delivery
 Health Programs
 Nursing Services
Medically focused nail care
Diabetic foot assessment and care
Wound care
Symptom management
---
Andreen's Medicine Centre is licensed by the College of Pharmacists of BC. The pharmacy manager is Elizabeth McIntyre. Pharmacy practice issues may be reported directly to the College of Pharmacists of BC via their website.

College of Pharmacists of BC Website