Nanoose Medicine Centre
When Darcy & Sean O'Toole and Tracie & William Der opened Nanoose Medicine Centre Pharmacy at the Red Gap Centre in May 2006, they were packing a wealth of acumen into a relatively small space. "Combined, we offer over 60 years of pharmacy care experience," says Darcy O'Toole. "Although our Nanoose store is 'young', we've learned so much about providing optimal health services through our other pharmacies that the citizens of Nanoose Bay reap the benefits!" "It is 100% the result of taking a community-oriented approach to health care," Tracie Der says. "At Nanoose, we focus on the whole patient – not just their medications. This is the degree of attention that Darcy and I, along with our husbands, believe everyone deserves – and that is what we have been striving to provide ever since graduating from pharmacy school."
Products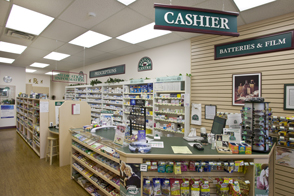 Tracie Der says, "There's so much more to health care than just taking pills." Accordingly, Nanoose Medicine Centre draws upon its sister stores' resources to help make available a wide range of products and continually adapts its product selection to the needs of its clients. But even though the O'Toole's and Der's are committed to total health care, they have also filled Nanoose with items like giftware and beauty aids – thus reinforcing the notion that shopping at a traditional pharmacy can be fun as well as helpful!
Over-the-Counter Remedies
Home Health Care Products and Rentals
Natural Health Products
Health and Beauty Aids
Giftware and Greeting Cards
Services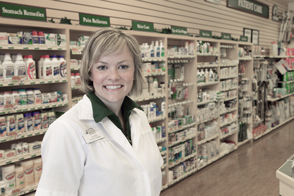 Nanoose Medicine Centre's services are rendered amidst warm wood tones and a friendly atmosphere that reassure patients that the "good old days" of pharmacy are alive and well. "I actually had a lady say that coming into the store is like coming home," laughed Tracie Der. "That level of comfort helps to assure that patient needs are raised and addressed." "There's a scarcity of physicians in Nanoose Bay, so people are coming through our doors looking to us for far more than just medication," says Darcy O'Toole. "We provide everything from state-of-the-art blood pressure monitoring to palliative care and pain management. As the most accessible health care professionals in Nanoose, we have a responsibility to ensure that our clients' health and wellness are being looked after."
Pill-Pak™Medication Management Packaging
Private Health Care Consultation ( Asthma/Weight Management, Healthy Heart & Diabetes Care Programs, Bio-Indentical Hormone Replacement Therapy )
Pharmacy Services
Compression stocking fitting
Travel Health Consultations
Ostomy care and supplies
 Health Programs
No-Charge Deliveries  
---
Nanoose Medicine Centre is licensed by the College of Pharmacists of BC. The pharmacy manager is Catherine Hebert. Pharmacy practice issues may be reported directly to the College of Pharmacists of BC via their website.

College of Pharmacists of BC Website