Qualicum Medicine Centre
Pharmacist Darcy O'Toole and husband Sean took over the Qualicum Medicine Centre Pharmacy in 1999, followed shortly thereafter by the opening of sister stores Memorial Compounding Medicine Centre and Nanoose Medicine Centre. When asked to summarize their mission, Darcy reiterates a slogan that rings especially true to her patients: "Come on over and experience the difference that our caring approach, combined with our expertise and teamwork, will make to your health. We focus on the overall health and wellness of the community and we're pleased to be at the Centre of your health and wellness needs."
Products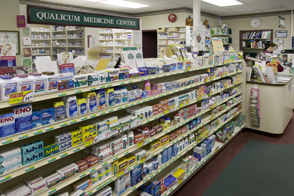 Although Qualicum Medicine Centre is a small, clinic-style pharmacy, it provides a wide range of products one would normally associate with much larger stores. "Because Qualicum is complemented by the Memorial and Nanoose pharmacies, we have direct access to virtually all products and services a patron may wish for," says O'Toole. "It's all part of our on-going goal to provide for the total health and wellness of the community."
Over-the-Counter Remedies
Home Health Care Products and Rentals
Natural Health Products/Vitamins/Supplements
Customized Compounded Medication for People and Pets
Pharmacy Services
Compression stocking fitting
Travel Health Consultations
Ostomy care and supplies
Specialized Compounding (via our Memorial Compounding Medicine Centre Pharmacy)
Health Programs
Services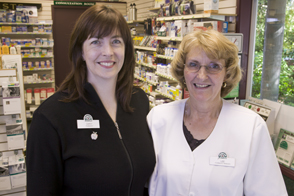 Qualicum Beach residents have the highest median age in all of Canada. Although Darcy and her fellow staff members offers products and services for every age group, she enjoys interacting with the mature adults in the community and really getting to know them. Therefore, her propensity for relationship-building assumes a special importance. "Our patients feel comfortable enough to discuss all of their concerns, and that allows us to adjust our services to suit their unique needs and assist them with achieving their goals towards good health" she says.
FREE Delivery Service
Pill-Pak™Medication Management Packaging
Computerized Blood Pressure Monitoring Service
Compression Stocking Fittings
Private Health Care Consultation (Medication Reviews, Asthma Care and Management, Health Heart and Diabetes Care Program, Palliative Care, Bio-Identical Hormone Replacement Therapy, Custom Compounded Prescriptions)
Registered Nursing Services/Foot Care Clinics and Informative Health Clinics
Rewards
We want to thank you for trusting us with those moments when you need expert health advice. Experience the Perks of your Qualicum Medicine Centre Pharmacy.
Receive 1 Perk for every:
$10 of front-store merchandise (before taxes)
Redeem 40 perks for a $10 gift certificate for:
in-store merchandise or
one of our partners (The Bay, Tim Hortons, Starbucks, Cineplex Odeon & Subway)
---
Qualicum Medicine Centre is licensed by the College of Pharmacists of BC. The pharmacy manager is Leola Kuefler. Pharmacy practice issues may be reported directly to the College of Pharmacists of BC via their website.

College of Pharmacists of BC Website