Central Drug Store (Brickyard)
Located in the Brickyard Medical Building with 500 square feet of operating space, Central Drugs is no-frills in the best sense of the word. It's a dispensary, and as pharmacy manager/owner Russell Beales points out, a well-run dispensary "is totally focused and well-equipped to do two things: help remedy customers' ailments and maintain their overall health."

The Brickyard store accomplishes this by stocking a vast range of medications and striving to provide the highest-quality products. But the human factor is really what facilitates complete health care. "Brickyard is small, but everyone receives thorough counseling and precise answers to all of their questions," says Beales.
Products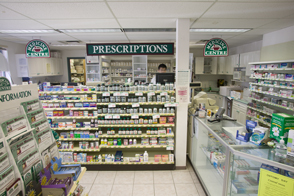 How does a small store provide everything from diabetic supplies to breast pump rentals? In Brickyard's case, because it's adept at filling orders. Customers can obtain anything related to health care by simply tapping a staff member on the shoulder. If the desired product is a UniPHARM item, it will be in stock the very next day. Or, it may be a simple matter of accessing the product from Central Drugs' Dunsmuir location.

Either way, Brickyard lives up to Central Drugs' mandate of being a complete neighbourhood pharmacy.
• Diabetic supplies
• Ambulatory supply, sales/rentals
• Medela rentals
Services
Small in size but big in heart, Central Drugs at Brickyard provides free delivery and compliance packaging for customers along with the kind of one-on-one counseling usually found in larger facilities with small armies of pharmacists.

Beales cites a philosophy that applies to all of his Central Drugs locations: "My staff don't hide behind counters where nobody can see them. They are always accessible. And they take a genuine interest in the welfare of everyone coming through their doors."

Pharmacy Services
No charge city-wide delivery 
---
Central Drug Store (Brickyard) is licensed by the College of Pharmacists of BC. The pharmacy manager is Cody Drzewiecki. Pharmacy practice issues may be reported directly to the College of Pharmacists of BC via their website.

College of Pharmacists of BC Website