Central Drug Store (Campbell)
Central Drugs has been in business since 1892 and staff are proud to say that they know most patients on a first name basis. "Having a patient/pharmacist relationship helps us give the best care possible at our store."
Products
Central Drugs at Campbell Street meets every conceivable need in terms of prescription medications. It also has a modest but satisfying range of over-the-counter products, braces, crutches, dressings and diabetic supplies.

Customers may ask staff about products that may not be on the shelves. Their requests will be addressed quickly as most items can be processed by the next day and other items can usually be drawn from one of the other five Central Drugs stores.
• Diabetic and other supplies
Pharmacy Services
Services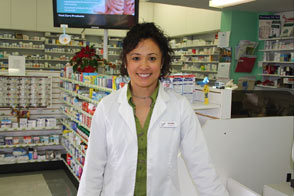 Marie and colleagues have a knack for offering services in the Campbell Street location that one may not associate with such a small facility. The majority of patients come straight from the doctors next door, so any problems with prescriptions are quickly addressed. As with all other Central Drug stores, we deliver medications to those who cannot wait or cannot make it in to pick up their prescriptions.
• Compliance packaging
• Consultation upon request
---
Central Drug Store (Campbell) is licensed by the College of Pharmacists of BC. The pharmacy manager is Blair Tymchuk. Pharmacy practice issues may be reported directly to the College of Pharmacists of BC via their website.

College of Pharmacists of BC Website