Central Drug Store (Dunsmuir)
Central Drugs at Dunsmuir is typical of pharmacy manager/owner Russell Beales' network of Vancouver Island stores in that it's a bright, friendly place where superior medical attention and care is delivered. More often than not, customers are greeted by their first name, indicative of the philosophy Beales' pharmacists share that health care should be a personalized process.

In fact, while Dunsmuir's services and products are plentiful, they are underscored by a one-on-one style of informative communication that Beales' colleagues have honed to perfection. "In that sense, all my stores offer a complete pharmacy experience," Beales says.
Products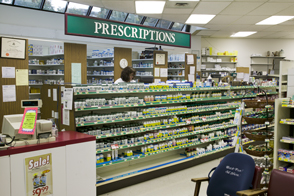 Central Drugs at Dunsmuir is stocked with health care items related to everything from sports medicine to ambulatory aids – the latter category offering rentals as well as sales of crutches, wheelchairs, walkers and other items.

And thanks to Dunsmuir boasting an open floor plan (a characteristic shared by all Central Drugs stores), products are easily accessed by the elderly or infirm. "We make pharmacy shopping convenient for one and all," says Beales.
• Wound care and ulcer management products
• Sports medicine products
• Ambulatory aids
• Incontinence supplies
• Medela nursing products
Services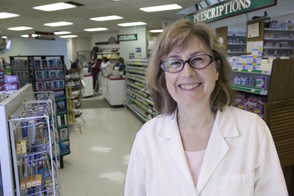 Anyone who is a long-time customer of the Dunsmuir store can attest that its myriad services are delivered in a friendly and helpful manner.

Which raises the question, how do Beales' colleagues maintain their high level of enthusiasm considering they perform so many time-pressing duties? "The simple answer is they're people-oriented and love what they do," Beales replies. "As a result, Central Drugs has a very low turnover of pharmacists, which facilitates a wonderful development of relations between them and their customers."
• Consultation upon request
Pharmacy Services
Compression stocking and other fittings
Dressing Supplies
Medical Equipment 
Ostomy care and supplies
---
Central Drug Store (Dunsmuir) is licensed by the College of Pharmacists of BC. The pharmacy manager is Jordan Mark. Pharmacy practice issues may be reported directly to the College of Pharmacists of BC via their website.

College of Pharmacists of BC Website