Central Drug Store (Lantzville)
Central Drugs manager/owner Russell Beales takes great pride in his Lantzville store, which has kept him busy for most of his professional life (he graduated from pharmacy school in 1984). At 720 square feet, Lantzville is a full-service pharmacy that welcomes thousands of people through its doors annually, and Beales lives up to the boast of old-fashioned pharmacists by stating, "I actually have more customers than does the average doctor, but I still know everyone by name. I enjoy their visits and even more so I enjoy helping to make them well or keep them fit. It's a great way to serve the community."
Products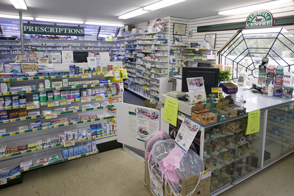 Beales caters to a potpourri of people in Lantzville, from the young and old to the healthy and infirm and everyone in between. Accordingly, the products on his shelves satisfy the widest possible range of needs. In fact, the combination of great product selection in a relatively small store makes for a cozy shopping experience. "I don't waste any space and there is no clutter, so you can drop by, buy things, ask us questions and not feel hemmed in by endless aisles or pharmacists hiding behind walls," says Beales.
Ambulatory aid equipment sales and rentals
Medela nursing products and rentals
Sports medicine products
Incontinence supplies
Services
Since the beginning of his association with Central Drugs, Beales has learned that a successful pharmacy has three main ingredients. "You have to provide services in a pleasing fashion, which is a mainstay at Lantzville," he says. "That leads to the second ingredient: personable staff with good communication skills, which is another characteristic of my store." The final ingredient is operating hours that are appropriate for the community at large. These and other factors are why Lantzville residents have come to view Beales' store as a place where receiving health care is an upbeat experience.
Pharmacy Services
Breast Pump Rental/sales
Ostomy care and supplies
Health Programs
No Charge Delivery
---
Central Drug Store (Lantzville) is licensed by the College of Pharmacists of BC. The pharmacy manager is Russell Beales. Pharmacy practice issues may be reported directly to the College of Pharmacists of BC via their website.

College of Pharmacists of BC Website