Kroll's Surrey Pharmacy Ltd.
With 37 years of pharmaceutical experience under her belt, Lorna Kroll has a bit of catching up to do before she matches her father Louis's 50 years of serving customers in the profession. But as the owner of Kroll's Surrey Pharmacy, it's a goal that she fully intends to achieve.

Kroll describes her business as "Small store, huge staff and lots of fun. We have four generations' worth of customers coming here, and we regard ourselves as an integral part of a local health care network that, by building relationships, attends to everyone's unique needs."
Products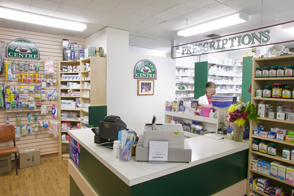 Although her store is only 650 square feet in size, Kroll stocks "a little bit of everything on our shelves. Plus we have a limited selection of home care equipment backed by counseling from my well-trained staff."

And if a desired item is not carried in-store, Kroll offers the next best thing. She explains: "We are well-connected resource-wise, so we're never at a loss to order a product or refer someone to an outlet where they can obtain what they need quickly."
• Cold and cough remedies
• Pain medication
• Vitamins
• Shampoo and other personal items
Services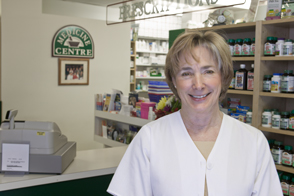 What services do Kroll and her eight-member staff provide? "Anything the customer wants," she replies. "That may sound facetious, and we are constantly busy filling prescriptions, but we don't hesitate to do whatever it takes to ensure the satisfaction and well-being of our customers."

This translates into everything from blister packaging to providing medications to the two kidney dialysis units operating in Surrey. For inspiration, Kroll needs only to recall the devotion her parents exhibited that made Kroll's a genuine health care destination. "My mom worked here until she was 88, and I'm proud to continue that work ethic," she says.
Pharmacy Services
Counseling
Compression stocking fitting
Ostomy care and supplies
Wound care
---
Kroll's Surrey Pharmacy Ltd. is licensed by the College of Pharmacists of BC. The pharmacy manager is Lorna Kroll. Pharmacy practice issues may be reported directly to the College of Pharmacists of BC via their website.

College of Pharmacists of BC Website