Fraser Heights Pharmacy
Fraser Heights Pharmacy is simple and straightforward in the most inviting of ways, and owner Howard Hosseini is the type of pharmacist whose discourse is punctuated with friendly laughter: in short, the kind of person everyone enjoys being around. These are the ingredients that have made Fraser Heights the pharmacy of choice for locals since 1997. That, plus expedient prescription-filling, custom-compounding and a host of other services differentiate Howard's 1000 square foot store from the anonymous super-pharmacies that dominate the landscape. "We supply everything for your health," says Howard. "There's no need to go to the big boxes."
Products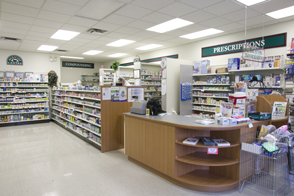 A traditional pharmacist to his core, Howard declares that "My most important products are the medicines I dispense to customers in a timely fashion." But he concedes that his range of vitamins and herbal products fly off the shelves, and he credits Medicine Centre for supplying "excellent products, great value for your money." He also has a certified Natural Products Advisor on staff. 
As for canes and other ambulatory aids, Howard reveals his good humor when he says that rentals far outnumber sales: "That's the way I like it. I haven't met a customer yet who actually wants to own something like a wheelchair."
Vitamins
Cough and cold remedies
A full line of Medicine Centre herbal products
Ambulatory equipment sales and rentals
Services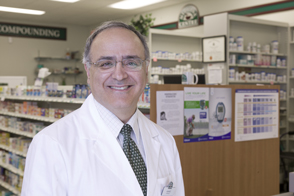 Customers chatting with Howard are a familiar sight at Fraser Heights, and in his typically subtle way he gains enough information about each person during the course of a friendly conversation to determine what he or she requires by way of health maintenance. "This in turn allows me to tailor my services," he says. Fraser Heights' compounding lab produces everything from flavored children's cough syrup to specific forms of medicine for cancer patients. A certified technician is on hand for compression stocking fitting, and Hosseini maintains an 'open door' policy in that if a customer requires special treatment, he and his staff are happy to oblige.
Pharmacy Services
Breast Pump Rentals
Compression stocking fitting
Custom compounding (non-sterile)

Pain Creams
Veterinary products for animals/pets

Ostomy Care and Supplies
 Health Programs
---
Fraser Heights Pharmacy is licensed by the College of Pharmacists of BC. The pharmacy manager is Howard Bahr-Hosseini. Pharmacy practice issues may be reported directly to the College of Pharmacists of BC via their website.

College of Pharmacists of BC Website