Surlang Medicine Centre Pharmacy
Bob Sangha, owner of the Surlang Medicine Centre, lives, breathes and eats his profession. For example, he doesn't just source and stock the best vitamins and nutritional supplements, he uses them himself. He doesn't just offer educational brochures, he has "the very best brochure rack of anyone in the profession." To say his small pharmacy is a friendly source for comprehensive health care would be an understatement, and if Sangha isn't busy explaining to a customer the benefits of a particular product or creating custom compounds in his lab, he's developing public education seminars. "My job never stops, and my on-going goal is to provide as many unique products and services as possible," he says. Visit Surlang Medicine Centre Pharmacy's web site for more information, products and services by clicking here: www.surlangpharmacy.com
Products
Between Sangha's compounding products and the dispensary, Surlang customers are well taken care of. But Sangha is also proud of his front-store items, which include some of the most effective supplements and unique personal care items of any pharmacy. Sangha summarizes his inventory thusly. "If you come to me and your hair is falling out, or you feel run down or suffer anxiety, I can provide solutions. I will take the time to get to know you and what your requirements are and then offer a range of options that are both safe and effective." Visit Surlang Medicine Centre Pharmacy's web site for more information, products and services by clicking here: www.surlangpharmacy.com
Sport medicine items
A unique selection of vitamins and supplements
Services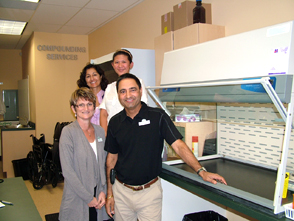 To provide the best possible individual pharmaceutical and health care services, we will always do our utmost to meet the needs of our customers, we are proud to say our customers are our family. We specialize in compounding, renal services, blister packing and anything else our customers request or need.  We have a saying "the buck stop here", meaning we solve your prescription and product needs without sending you, our customers on an endless goose chase.  We will take care of you, we promise.
Aside from the normal range of services a good pharmacy provides, Sangha has earned a considerable reputation for addressing the health issues experienced by menopausal women – as well as those of men in their mid-life. "If I have a niche, it's a focus on the baby boomers," he says. Never one to be satisfied with half measures, Sangha backs up his services with exhaustively-researched pamphlets, checklists, screening tests – plus all the acumen that comes from being in the profession for over 25 years. "I never say no to customers, because I know that whatever they need, I can help," he says. "If I get them into my store, they'll leave happy."
Visit Surlang Medicine Centre Pharmacy's web site for more information, products and services by clicking here: www.surlangpharmacy.com
Pharmacy Services
Compression stocking fitting
Home Visits
Ostomy care and supplies

Bio-identical
Dermatological
Discontinued Items
Pediatrics
Veterinary
We are one of the biggest compounders in the valley - we can compound anything - we never say "no".
Health Programs
Prescription Delivery
---
Surlang Medicine Centre Pharmacy is licensed by the College of Pharmacists of BC. The pharmacy manager is Balbinder S. Sangha. Pharmacy practice issues may be reported directly to the College of Pharmacists of BC via their website.

College of Pharmacists of BC Website