Vanderhoof Medicine Centre
At the Vanderhoof Medicine Centre, Pharmacists will focus on the patient immediately as they arrive.  Health education and comfort are the two priorities for the Vanderhoof Medicine Centre.  Education can be as simple as an informal conversation to help customers better understand their prescriptions or as comprehensive as a full medication review.  The centre layout and interior design creates warm environment that puts customers at ease.  They will notice a difference right when they walk through the door. Staff are trained to make every effort to help you feel informed and prepared for better health. 

Their approach to service is driven by the notion that every need deserves their full attention.  The Vanderhoof Medicine Centre dispensary is augmented by an instant online order system that accesses the entire product line of the pharmacy's wholesaler.  Simply put, if a desired item is not on the shelf it can likely be ordered and in most cases delivered to the store by the next day - at a highly competitive price. The focus is purely on health: prescription medications, over the counter medications; vitamins and supplements and home and health care products.
Walk-in patients will not waste any of their time in our pharmacy.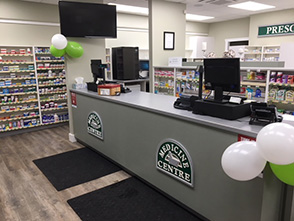 Pharmacy Services
Health Programs
---
Vanderhoof Medicine Centre is licensed by the College of Pharmacists of BC. The pharmacy manager is Alana Nikolitsas. Pharmacy practice issues may be reported directly to the College of Pharmacists of BC via their website.

College of Pharmacists of BC Website