Estevan Pharmacy
Estevan Pharmacy is a service-oriented community pharmacy located in the heart of Oak Bay, in the picturesque Estevan Village shopping centre. Established in November 2000, Estevan Pharmacy is owned and operated by Lesley Blackman, a pharmacist with over 25 years experience. You will find no microwave ovens, computers, or toys at Estevan Pharmacy. What you will find is a health-oriented pharmacy that is a throwback to the old notion of a 'community pharmacy', with a focus on forging strong relationships with clients and the neighbourhood. "Oak Bay is a small community and we maintain a sense of that community in the store," says Lesley.
Products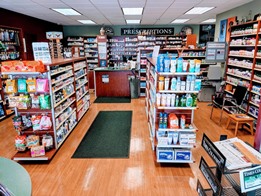 For a store with no room to spare, just 500 square feet, Estevan Pharmacy provides the following:
Vitamin supplements and herbal remedies
Over-the-counter medications for pain, cough, cold and allergy relief, stomach aids, first aid
Medical supplies
Full prescription services and specialty compounding.
Estevan Pharmacy also carries a range of health and beauty products.
If we do not stock it, we will bring it in for you!
Services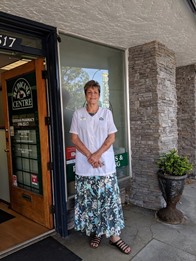 Estevan Pharmacy offers the following services:
Medication reviews and chronic disease management
On-Site Cholesterol Testing
Smoking Cessation
Vaccinations (Influenza, Shingles, Gardasil, Tetanus, Measles, Hepatitis A & B, and more)
Specialty compounding including bio-identical hormone preparations and veterinary products
Medicine cabinet cleanup/disposal Syringe and sharps disposal
Compliance packaging of medications
Patients may schedule a home visit by a pharmacist to review prescription medications, over the counter medications, and disease management.
Estevan Pharmacy also offers photocopy and a secure fax service and a variety of South African foods
"We Deliver"

Pharmacy Services
Compounding

Hormone Replacement Therapy (HRT)
Veterinary Products
Fibromyalgia

Home Visits
Ostomy Care and Supplies
Health Programs
---
Estevan Pharmacy is licensed by the College of Pharmacists of BC. The pharmacy manager is Lesley Blackman. Pharmacy practice issues may be reported directly to the College of Pharmacists of BC via their website.

College of Pharmacists of BC Website